Comments for movies: Down And Dirty Duck
Vote
(Total
0
Votes )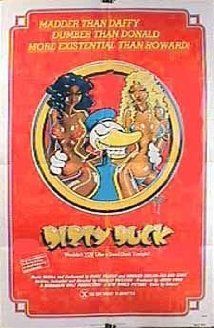 Movies:
Down And Dirty Duck
Director:
Charles Swenson
Cast:
Howard Kaylan, Mark Volman, Robert Ridgely
Production Co:
Murakami-Wolf Productions
Genres:
Animation, Comedy, Music
Runtime:
75 min
Country:
USA
Release Date:
1974
Willard, a mild-mannered insurance investigator, checks on the claim of an old woman, the owner of a tattoo parlor, who puts out a claim listing her as being dead. She tells him that her Ouija board gave her a message that she would be killed by a wizard. Willard tells her that she will not receive any money until she is dead, and, suddenly, she dies of a heart attack. Her will states that her killer would receive possession of her duck. The Dirty Duck takes Willard on a quest to experience in life to the fullest. First, they are both thrown in jail. Then, the two arrive at a house of ill repute in order to get Willard laid...