Comments for movies: Slc Punk!
Vote
(Total
1
Votes )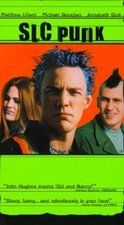 Movies:
Slc Punk!
Director:
James Merendino
Cast:
Matthew Lillard, Michael A. Goorjian, Annabeth Gish
Production Co:
Beyond Films, Blue Tulip Productions, Straight Edge
Genres:
Comedy, Drama, Music
Runtime:
97 min
Country:
USA
Release Date:
1998
Two punks live in Salt Lake City. The film covers their all-day routine. The realism of the character-narrated movie may be discussed. One of the punks gets ill, stays in hospital for three weeks, comes out again. Three parties are covered and one concert including a fight between punks, rednecks and others...