Comments for movies: A Chorus Line
Version 1
Server Veoh
Vote
(Total
1
Votes )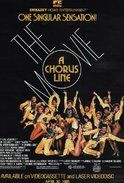 Movies:
A Chorus Line
Director:
Richard Attenborough
Cast:
Michael Douglas, Terrence Mann, Michael Blevins
Production Co:
Embassy Films, Polygram Pictures, Feuer and Martin Production, A
Genres:
Drama, Music
Runtime:
113 min
Country:
USA
Release Date:
1985
A director is casting dancers for a large production. Large numbers of hopefulls audition, hoping to be selected. Throughout the day, more and more people are eliminated, and the competition gets harder. Eventually, approximately a dozen dancers must compete for a few spots, each hoping to impress the director with their dancing skill. But, is this really what the director is looking for? ...