Comments for movies: The Three Caballeros
Vote
(Total
2
Votes )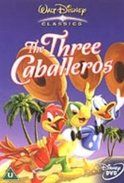 Movies:
The Three Caballeros
Director:
Norman Ferguson, Clyde Geronimi, 3 more credits
Cast:
Aurora Miranda, Carmen Molina, Dora Luz
Production Co:
Walt Disney Pictures, Walt Disney Productions
Genres:
Animation, Family, Fantasy, Music
Runtime:
71 min
Country:
USA
Release Date:
1944
A large box arrives for Donald on his birthday, three gifts inside. He unwraps one at a time, and each takes him on an adventure. The first is a movie projector with a film about the birds of South America; Donald watches two cartoons, one tells of a penguin who longs to live on a tropical isle and the other about a gaucho boy who hunts the wild ostrich. The second gift is a pop-up book about Brazil. Inside is Jose Carioca, who takes Donald to Brazil's Bahia for a mix of animation and live action: the two cartoon birds sing and dance with natives...